I love love love Anthropologie because of their eclectic mix of decor and style. I've had a credit with them forever that I had just been hanging on to, waiting for the perfect thing to purchase. I constantly visited their site and would "shop," never pushing the buy button. Until I came across this rack…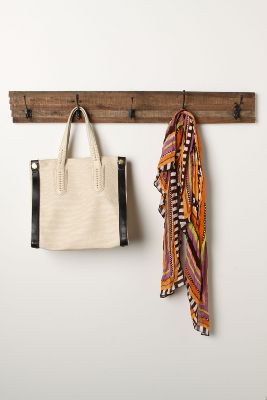 I loved the rustic look that this Schoolroom Hook Rack would add to my light pewter walls. I also love having a family hub area where we can keep school backpacks, jackets, purses. Our go to spot that keeps us organized.
The problem with this purchase was that my DIY side said that my husband and I could just create this ourselves. So that is what we did. I purchased the hooks from Anthropologie and then we created our own hook rack.
We found a piece of weathered wood near my husbands work, attached the hooks and there you go. Our very own Anthropologie inspired hook rack.
---