Hi all…I've been away for a while, but I'm back. Big things are going on over here…can't wait to share with you all soon. (I hope) We are getting so close to closing escrow on our first home and I couldn't be more excited, ready and over it. This process has been a long one. If you've ever bought a house you know how much paperwork it entails. I'm so ready to get rid of the piles next to my desk, geesh.
While waiting for this process to come to an end I've been doing a lot of designing in my head and online shopping without pushing the buy button. Do you all do that? You revisit a site over and over again and your shopping cart says you still have 7 items in it? Haha. I have a few of those sites right now. But a buy button was pushed the other day and I'm excited to say that I have this lovely number coming my way very soon…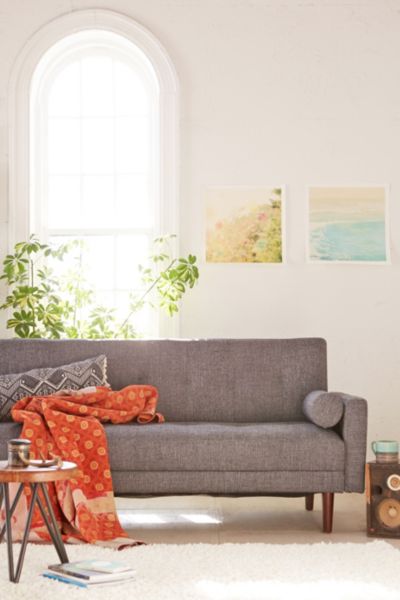 It is the Night and Day Convertible sofa from Urban Outfitters. I love the lines of it and the addition of the dark wood legs. And the fact that it folds down into a bed is awesome too. I feel way too excited about this new piece of furniture, but hey…new decor is like diamonds to me.
---